Welcome to "Nun t'adescià"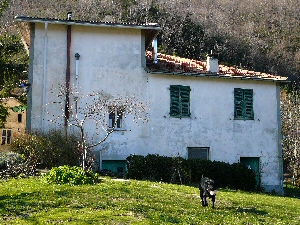 Nun t'adescià, ... we have a dream ... at 19 km from the sea of the Riviera Ligure and a few kilometers from the nearest village, the house is located in the middle of 18 acres of land, mainly chestnut and coppice, and on the border of the Natural Park of Aveto, in a still largely pristine and populated by wildlife.
The scents of wild herbs, the view on Mount Ramaceto impregnable, the silence broken only by birdsong and the rustle of wind in the leaves, the air pure and fresh, surround you and carry you into a forgotten world.
The first time we came to see the house, in 2003, we fell in love with this piece of land and decided to take the plunge. We had not a lot of savings, but enough for the advance, the rest a mortgage, and we dived.
We started with the first works to stabilize the house, the recovery of the source from which the house draws drinking water and indoor environments to make them habitable. Since the beginning of the work we have given priority to the use of green materials, and we tried to respect the surrounding environment as possible. The house is located in the center of the property and is accessed by a private dirt road. They are part of the land around the house a large vegetable garden, an olive grove, fruit trees, chestnut and hazel. Our dream is to preserve this piece of ground and bring it back to its original beauty, partially stifled by years of neglect. Current work, in addition to restructuring of the house, are mostly to clean and recover the territory, in respect of biodiversity.
Details

Category: About Nun t'adescià
Published on Monday, 11 March 2013 11:09
Written by Guido Seu
Hits: 8778